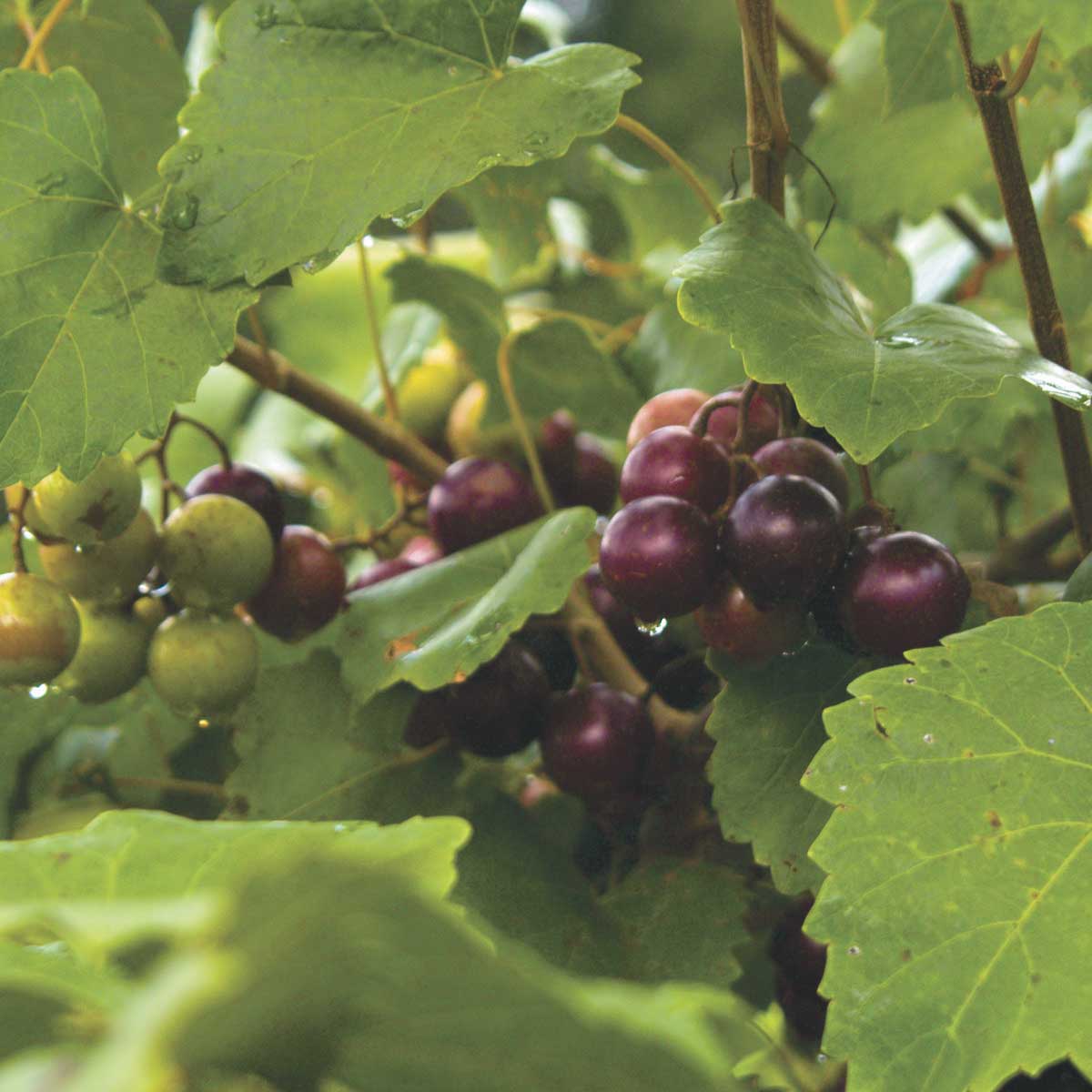 The Muscadine Grape
Similar to our immune system, which produces more antibodies when under attack, the Muscadine grape produces more oxidative damage-fighting antioxidants when under the stress from the environment it grows in, leading to a host of health benefits.
Muscadine grapes have 2 more chromosomes than wine/table grapes. This provides much greater genetic ability to help build your health. Unlike other fruits or berries, the Muscadine has the ability to resist mold, bacteria, and viruses without the use of harmful chemicals.
BENEFICIAL MICRONUTRIENTS
Naturally found in plant-based foods, Muscadines have the most polyphenols of any grape. The highest polyphenol content is found in their thick skins and seeds.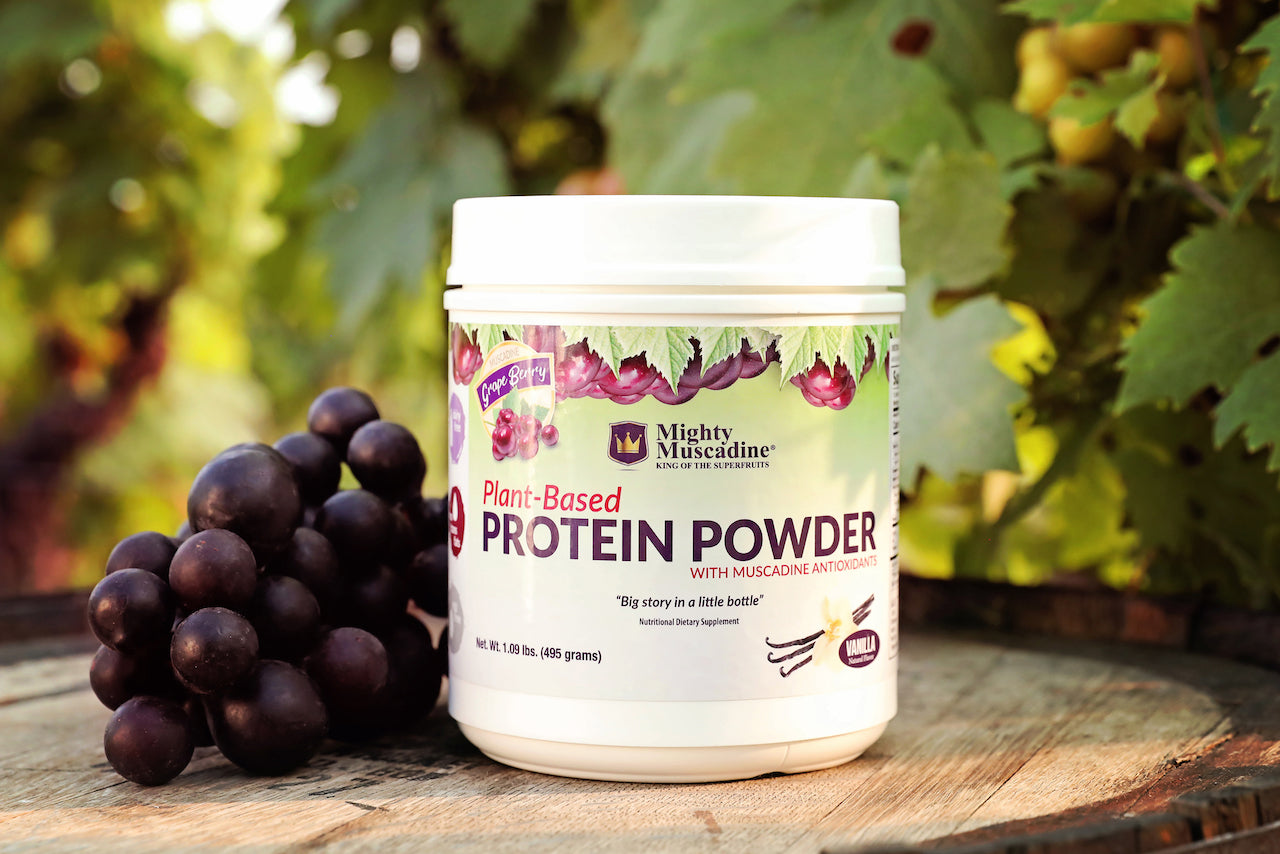 Better Nutrition for a Better You
Our Mighty Muscadine® grape products are made from exclusively sourced, premium Muscadine grapes grown in the Southeastern United States. Mighty Muscadine® products are carefully inspected and tested to bring you only the highest quality Muscadine products from our family to yours.
What We're All About..
At Mighty Muscadine® we believe in protecting  God's great earth for generations to come. Our farming and production practices are environmentally friendly and we make every effort to protect and preserve without the use of pesticides and herbicides.

Mighty Muscadine: King Of Superfruits

It is the unique and abundant combination of phytonutrients that set the Muscadine grape apart. With higher antioxidant values than the blueberry, gogi, pomegranate, cranberry, açaí, mangosteen, Muscadine grapes are the KING OF THE SUPERFRUITS.


Real Plant Science,

A Real Difference

With over 15 years of scientific research and human clinical trials, we have a full-time, on-site food scientist to carefully test our products to ensure the highest quality standards when it comes to the growth and production of our premium Muscadine grapes and Mighty Muscadine® products.


Full of Antioxidant Health Benefits

As we age, our ability to fight free radicals declines. Supplementing your diet with Muscadine Grape Seeds and Skins is a powerful way of increasing antioxidant nutrients and polyphenols to boost your antioxidant potential. Ellagic Acid, Resveratrol, Quercetin, Anthocyanidins, and OPCs are just a few.
Grown in the South
Native to the southeastern United States, Muscadine Grapes (vitis rotundifolia) aren't the grapes you typically see at the grocery store.
Long before the first European settlers stepped foot into the New World, the Muscadine grape was growing wild in the wooded-areas of what would become known as the southeastern United States. These powerful little berries thrived in the harsh winters and blazing hot summers without the interference or aid of the outside world.
 They are well noted for their thick skins and larger seeds, which are actually the two things that makes these grapes so healthy. Much of the nutrition is in the skin, the thicker the better, and the powerful seeds.
What Our Customers Are Saying..
"I love the incredibly amazing pure protein, I have lost weight and feel great. Thank you Mighty Muscadine for pure body fuel." Luke

"I can say that your product is amazing! I am grateful that I was shown your product. Keep making this stuff." Michael

"I am an avid walker, and I have now been on Muscadine supplement since 2009. I love the energy it gives me daily." Cay